jhhjg
Surplus Items
Kingfisher Schools is accepting sealed bids for surplus items until October 7th. Click here for a list of items and bidding instructions.
District Website App Available
Kingfisher District website information can now be accessed via mobile application from your Apple device. In the App Store, search 'SchoolinSites'. After downloading the application, click 'find' to search for the district site and for each school. Kingfisher High School, Kingfisher Middle School, Kingfisher Heritage School, and the Kingfisher district sites can be added to your favorites by searching 'Kingfisher'. To add the elementary school, search 'Gilmour'. Users will be able to access upcoming events, staff contact information, school contact information, and a direct link to the school website.
_________________________________________________________jhhjg
District Calendar Update
The District Calendar has been updated to allow users to easily find information. Each district school has been assigned a color, which is listed below.
Kingfisher High School- Gold

Kingfisher Middle School- Blue

Kingfisher Heritage School (3rd/4th grades)- Green

Gilmour Elementary School- Purple

District-Wide Events- Red
_________________________________________________________
2011 API District Report
To access the 2011 API District Report, click HERE. Reports can be viewed by school or district.
_________________________________________________________
Kingfisher Public Schools App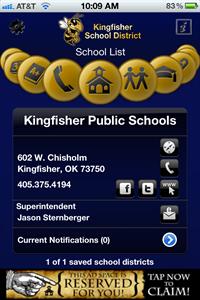 School Connect launched a free multi-lingual mobile application for Kingfisher Public Schools last Friday, the 13th. The application is available for both Apple and Android mobile devices at the Apple and Android stores, and is available in English, as well as such languages as Spanish and Arabic. The app also features "Push" messaging from both the district and individual schools and many other features including a GPS mapping and navigation, gradebook access, video, social media channels, and much more.

School Connect is a Norman, Oklahoma based mobile application platform developer and it launched its first mobile app on October 18 for Norman Public Schools.

Company President Dr. Nick Migliorino said there was so much interest in the Norman about the application being a Top 25 free education app at the Apple app store within 24 hours of its launch, the company saw there was a great need for one platform for all school systems – from anywhere in the world – to launch a mobile app. That is, mobile users now can download the free School connect app at the apple and Android stores and, from within the app, select the school district(s) mobile app they want.

Kingfisher and nearly 100 other schools have been added. Mobile users will be able to easily find their schools by selecting the country, then state, then district for which they want a mobile app.

"We are proud to go lie with this platform and to feature Kingfisher Public Schools on the platform," Migliorino said, adding the company is in a position to add infinite amount of districts to the platform and to do so in minutes following receipt of information from a district. "Once you download the School Connect app, you choose the district you want an app for and, if they're partnering with us, you will have their app on you phone or tablet in seconds. We've already gotten calls from districts form across the nation and Canada."
Instructions:
For iPhone/iPod Touch:
Go to the App Store

Click on the magnifying glass in the bottom right corner to search for the app.

Search "schConnect"

The app should appear on the search menu.

Click the "Free App" button.

Click "Install".

Type in iTunes password and click ok.

Download should begin immediately.
For Android:
Go to the Android Market.

Select the search button in the upper-right corner.

Search "schConnect".

Select the app.

Click "Free", then "OK"

Download should begin.
-KHS Stinger, Monday, January 23, 2012 By Zac Leck/la